Welcome to our little family gift store
TARANOFF'S SITKAKWAN GIFTS
at
208 Katlian St.
Sitka, Alaska
99835-7501
sitkakwan@gci.net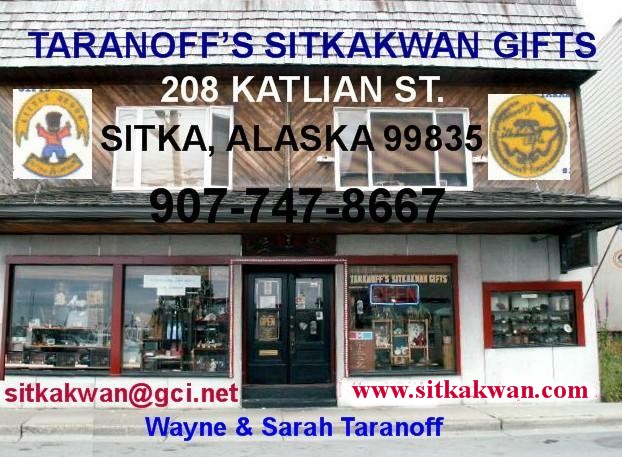 This is our family gift store at 208 Katlian street. If you ever visit Sitka, be sure to stop in to say hello and get a free copy of the Alaska Purchase Warrant!
AND
10% OFF most items if you mention you met us on the net!!!
ORDER INFORMATION
As you wander through our web page, you will see a wide variety in native arts pattern usage. Styles ranging from Hand Carved Sterling Silver Jewelry using native patterns, Native Artist Carved Ivory, by a local artist featured in the links below, and Hand Carved Wooden Rattles and Masks of native designs. Many different styles of items from many different artists both native and non-native.

We hope you enjoy browsing through the pages. If you find something you would like to purchase please feel free to contact us at sitkakwan@gci.net if you have any questions or offers.

We are always happy to hear from others who enjoy the creations we have.

Pay Pal is preferred, but we also accept Master Card, Visa, and American Express by phone. Money Orders, Postal Orders, Cashier's Checks, and Personal checks are also gladly accepted, but they do delay shipping due to the time the check takes to clear the bank.
All orders are sent priority mail, insured, return receipt through the United States Post Office.



Contact through email is greatly appreciated and you can be kept up to date on your order with pictures, sent via email, through every step in its creation!!!
Welcome in!!
Unique Items for sale: These are some of the more unusual items I have in the shoppe

LANGFORD IVORY CARVINGS: These are some exquisite pieces, most with certificates

LAVALLE WOOD CARVINGS: Masks, rattles, hatfronts, hats.

BASKETS BASKETS BASKETS: These are some pieces that Mom collected and that are for sale now. Thanks for letting us share these Mom!!

IVORY CARVINGS: Here you will find various ivory carvings.

Wayne Taranoff Jewelry: Jewelry I have made..and could make for you!!

Larry Taranoff Jewelry: These are some pieces that Dad made that are for sale now. Thanks for letting us share these Mom!!

---
---
If you would like to see Sitka with a few labels on it so you can see what is here. Just click on the pic and you will be wisked away to a page with Just Sitka and a few street names! lol!!



This is a shot of Sitka, Alaska from the air. Sitka is on a small island along the west coast of North America. This island is called Baranof and is located approximately half way between Anchorage Alaska and Seattle Washington. Since we have the Japanese current off the coast here our weather is more like Seattle than it is Anchorage. We have moderate temps and a lot of rain.

Put a Pin in our map of where you live!!


and visit BRAVENET, where I got this map, and see many other cool things you can get for your page!!
---

This page has been visited 5700 +

times.

Wayne & Sarah
sitkakwan@gci.net
Phone (907) 747-8667 (business)
Wayne Cell (907)-738-6677
Sarah Cell (907)-738-1319

208 Katliian Street Sitka, AK 99835-7501

~~~~~~~~~~~~~~~~~~~~~~~~~~~~~~~~~~~~~~~~~~~~~~~~~~~~~
This is us!! Wayne & Sarah!
ILUMDH!!!!
This is Us Married!! As of January 14th, 2002 We legally became Mr. & Mrs. Wayne Taranoff!!!!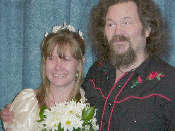 The personal side: If you care to know about us, here you will find insight. Both of our pages are linked through here!